Join the Team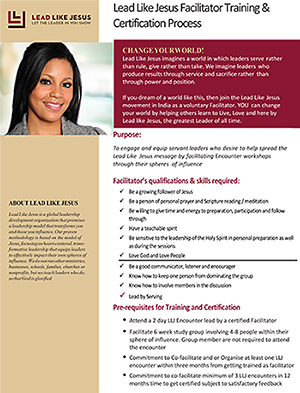 At Lead Like Jesus, we imagine a world in which leaders serve rather than rule, a world in which leaders give rather than take. We imagine leaders who seek to produce results from service and sacrifice rather than from power and position. Service and sacrifice only happen as leaders adopt Jesus as their leadership role model and grow in His likeness.
If you dream of a world like this, and have attended the LLJ ENCOUNTER, finished your 6 week study guide and feel this is God calling you to serve, then consider joining the Lead Like Jesus India Facilitator Team.
A Lead Like Jesus facilitator is someone who has faithfully considered God's plan for his or her life and feels that becoming a facilitator for the Lead Like Jesus Leadership Encounter and other Lead Like Jesus leadership development programs is part of his or her journey.
To learn more about becoming a certified Leadership Development Facilitator in your community, fill out the form below.